Ebook Creator Online
Create ebook with a few clicks. Convert your PDF into an interactive ebook with a realistic page turn effect. Publish your ebook online and analyze how your readers interact with your content.
Why creating an ebook with Publuu?
Because every ebook created with Publuu is optimized for every device. You can quickly customize its look, add interactive elements and brand it with your logotype. With Publuu Ebook Creator, you can easily publish and track your ebook's performance with just a few clicks. Your ebook's pages will rustle when you flip through them and will have characteristic shadows and reflections. It all means your readers will have a unique reading experience!
CREATE A FREE EBOOK NOW
How to create an ebook ?
Turn PDF to an ebook with just a few clicks. Follow four steps below to learn how to make and publish your first ebook.
UPLOAD YOUR PDF

Upload your PDF. It will take a couple of minutes for Publuu to create an ebook with realistic page turn effect.

CUSTOMIZE IT

Before publishing your ebook, brand it with your logotype, choose the background style and add interactive hotspots. Make it more engaging.

PUBLISH YOUR EBOOK

Now you can publish your digital ebook online. Post it on social media or send it with a direct link. You can also embed it into your website with our ebook embed configuration tool.

TRACK YOUR CONTENT

After publishing your ebook, can easily check your readers` activity, like the time spent on each page, the number of views and their interactions.
All devices
Make sure that all your readers have instant access to your ebook without any problems. Just send them a direct link and they can access it no matter if they use laptop, desktop, tablet or a smartphone. Your digital ebook will look and work great on every device.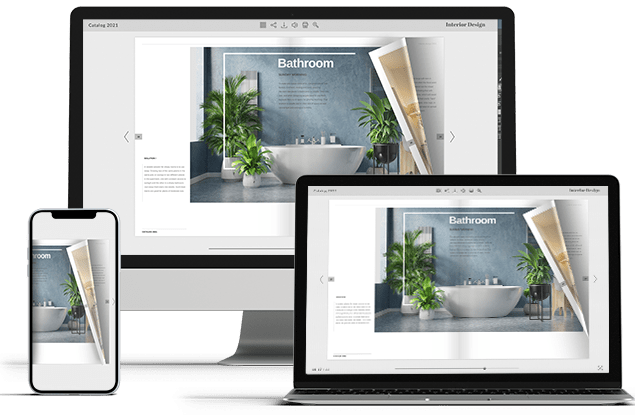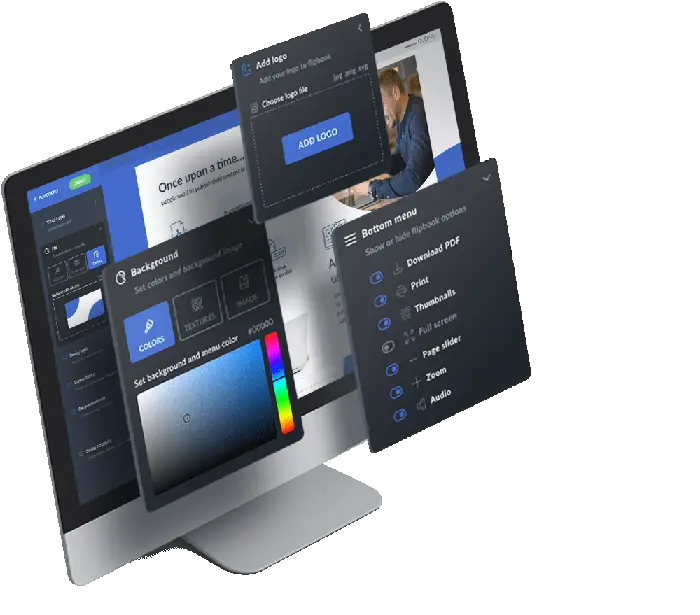 Customize your ebook
Make your ebook look truly yours. Set a background by choosing a custom color, one of many ebook templates or by uploading you own picture. Brand it with your logotype and add interactive elements to it.
Publish everywhere
Publish your digital ebook everywhere. Send a direct link by email or post it on social media. Embed it into your website or even as your e-mail signature. Make it easier for your audience to find your ebook!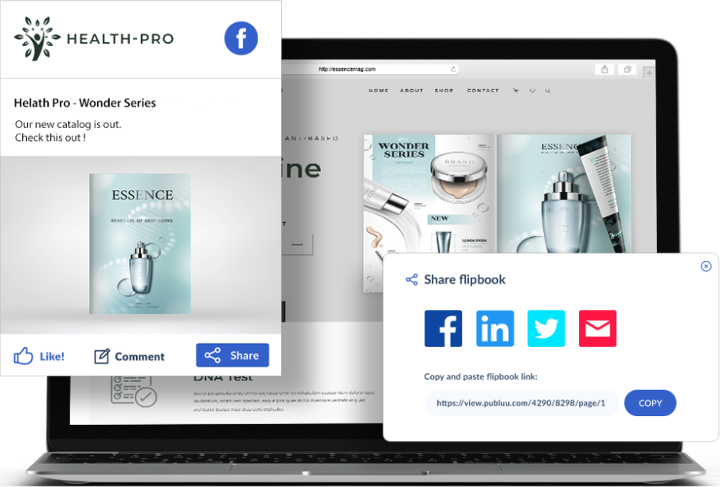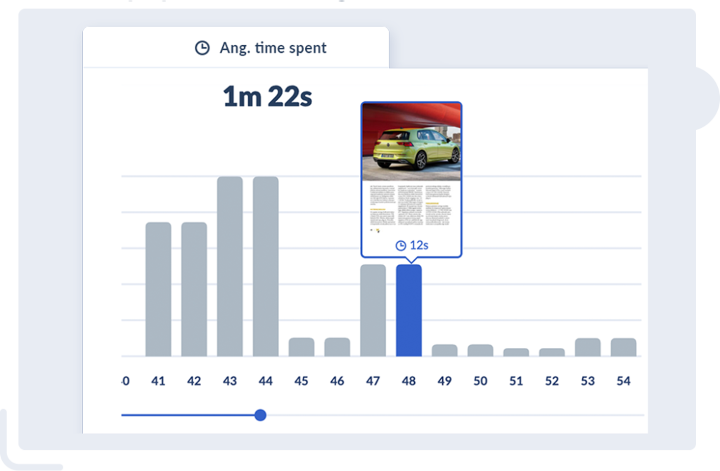 Easy updates
Update your digital ebook without having to resend it or change its link. Replace the existing ebook with a new one with a couple of clicks. That's all. Your readers will access your updated ebook with the same link.
Ebook examples
Publuu's online ebook creator is being used by more and more clients around the world. Join them and see for yourself how easy it is.
Interactive hotspots
Make your online ebook engaging by adding additional videos, photo galleries, links, or audio files. Show them as an active area or customized, animated hotspots which will attract your readers' attention.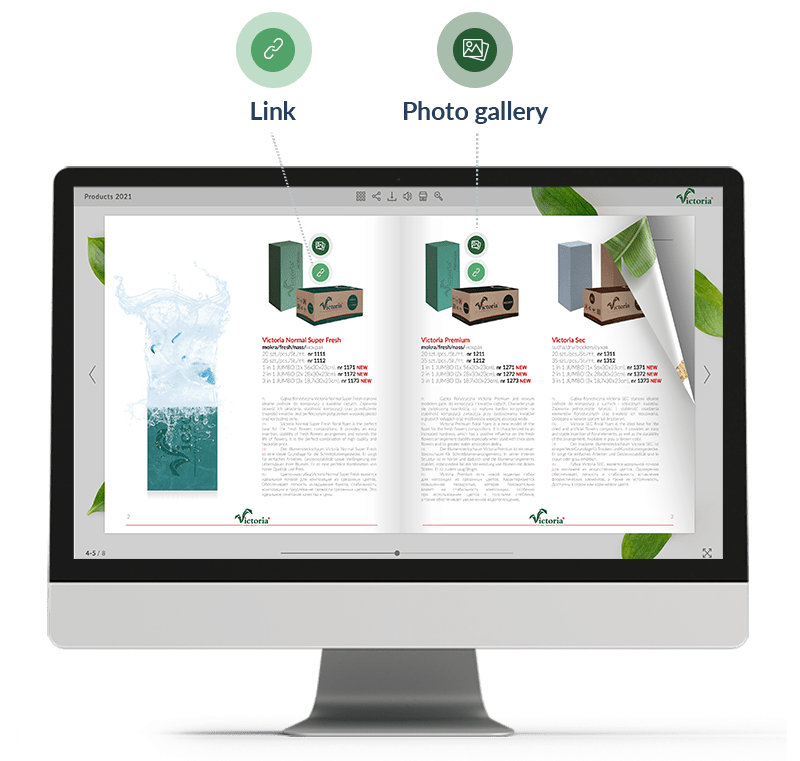 Password protection
Protect your digital ebook by setting a strong and unique password. You can also disable the share, download and print options to keep your ebook private and secure, with access for selected users only.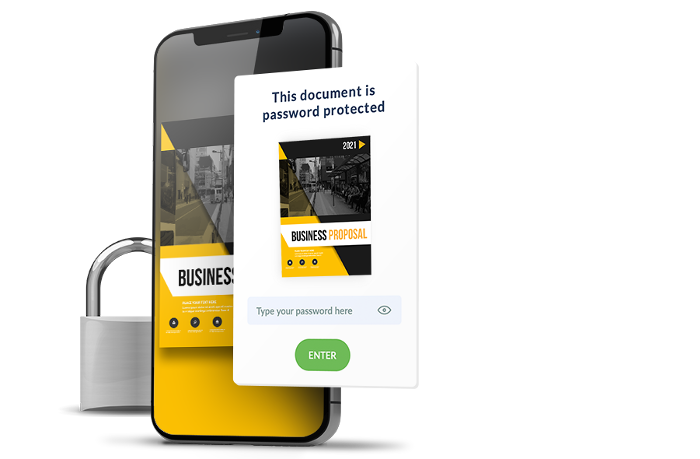 Our customers talk about our
ebook creator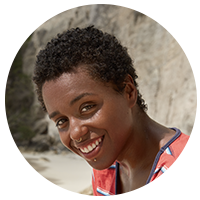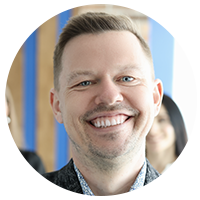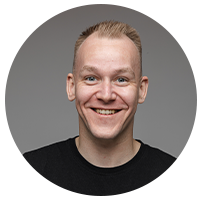 Recognition as a leader!
We are serving customers from over 150 countries and helping over 10,000 businesses grow every day.
We are so proud to be recognized as a global leader for our ebooks performance, easiest setup and easiest to do business with.
We have a 99% satisfaction rate from our customers and we work hard to keep it that way - we value service quality and always make sure that our interactive ebooks answer your business needs.
And we've been awarded for it!
More Ebook Benefits
Create ebook online with Publuu. It will take your digital ebook publishing to the next level. Check out other smart features below.
Large size
You don't have to worry about the size of your PDF ebook anymore. To share it, you just need to send a direct link to your ebook.
Mobile support
Your ebook will always work and look great on any mobile device. Its interface options are responsive and designed to help mobile users read your content.
SEO optimised
Set your ebook's name and description. It's SEO optimized for google algorytm to find your content easier.
Realistic effects
Make you ebook design look and feel like a real printed book. An ebook created with Publuu will have characteristic shadows and reflections.
Sound
Enable the sound option in your ebook. Its pages will rustle when you flip through them like in a real printed book.
Page flip effect
A page flip effect will make your ebook stand out from the crowd. The page flip animation makes your book behave like if it was a real one.
Web Kiosk
Create and customize your own website where you can publish all your ebooks and make them easily accessible to everyone.
App Kiosk
Create and customize your own mobile application for your all ebooks. Let your readers access your ebooks from Google Play and App Store, even when offline!
24/7 access
Make sure your clients have your ebook always at their fingertips. Let them access it anytime and anywhere, always in its most appealing form.
Ebook Publishing
You can publish your ebooks using the stunning online flipbook format with Publuu. A flipbook is an innovative format of an e-book that reflects a real book with real effect of flipped pages. You don't need any special software, just a normal website browser to view such an enhanced ebooks.
You can turn your PDFs into stunning ebook within seconds. You don't need to master any website skills to impress your readers or prospects with a beautiful experience of smooth-turning pages and interactive features unavailable in print.
Publuu's ebook example:
More examples
You can also use Publuu's ebook tracking option to check how your content performs in real time. Yoo can easily check how much time your readers have spent on each of your ebook pages and which was the most popular one.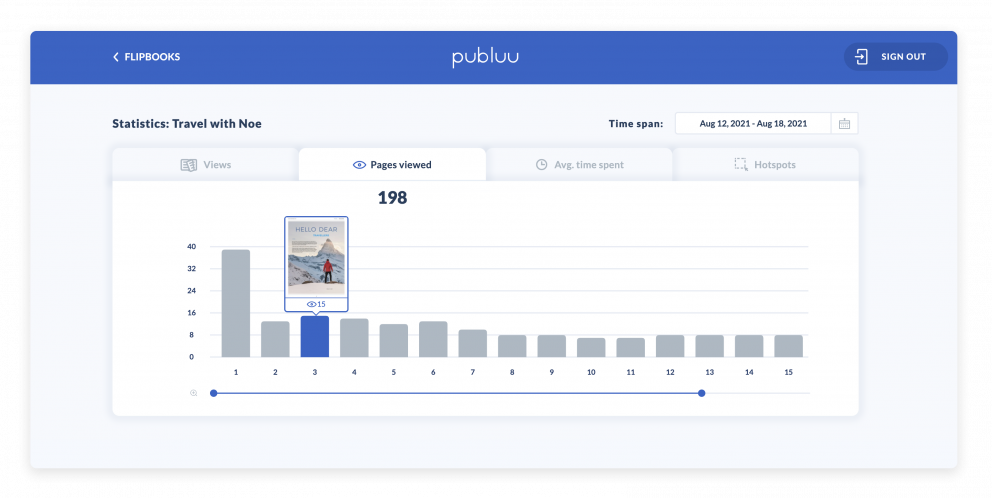 Publuu – ebook creator
The best way of making and sharing ebooks online.
With Publuu, our online ebook maker, you can easily turn your PDF to ebook online, publish it and send it to your readers. Just drop your PDF file below and in a few moments you will have a beautiful ebook that you can be proud of!
After that, you can personalize your ebook, so that it fits best with your brand or blog. You can add interactive elements to it: videos, photos, audio files. You can decide about its background.
It's up to you how you are to share your ebook: by email, on social media or embed to your website or blog. None of these options is too tricky with Publuu.
What's more, you can publish your ebooks on your customizable website or in your own mobile application available to download from on the Google Play and Appstore. All thanks to our Virtual Bookshelf and Flipbook App options.
What really impresses when using Publuu – ebook creator is the quality of online flipbooks you create and the fact that they reproduce the behavior of a printed book in a very realistic way. Each page layout of an online flipbook made with Publuu – the best ebook creator slightly bends and rustles when you turn it over, combining the latest technology with the beauty of a traditional book.
Ebook Creation – Top Tips
What is an e-book format anyway ?
E-book is an electronic book. It's simply a file containing the text of a book, formatted so that it can be visible on electronic or digital devices like laptop screens, tablets, or dedicated ebook reader.
You can effortlessly turn your PDFs into stunning ebook. You don't need to master any website, and just impress your visitors or prospects with a beautiful experience of smooth-turning pages and interactive features unavailable in print.
Ebook formats:
PDF Created by Adobe. PDFs are known for their ease of use and ability to maintain high-end designs
EPUB is the most widely supported e-book format, supported by most e-book readers except Amazon Kindle devices
MOBI was used as the first ebook format by Amazon when it launched Kindle.
Ebook Cover
Some ebook features never fall out of fashion. Yes, we are talking about quality! And it does not apply only to professionals. You do not need to be a professional ebook cover designer, but you should always aim to use only images, illustration, and graphic, that are at their best. That will always add value to your own ebook.
There are lots of free services with stock images where you can find the photo, illustration or graphic, that you might use in order to create a stunning ebook cover. But never go for less quality! Also – don't forget about back cover! It should match a book cover design too.
Ebook templates
Ebook creation is no different than designing your products. But why waste time when there are ebook templates available online? They're colorful, eye-catching, and they always attract customers.
There are a lot of free ebook templates available online, which will help you create your own ebook. And remember, once you find your perfect ebook templates and your publication is ready, you can make it even better by turning it into a stunning looking flipbook with our flip book converter.
Interactive ebook
A picture speaks a thousand words. We've all been hearing this phrase for quite a while now and well, let's face it? It's quite true! If you want to create the best ebook, you'll have to work hard on the graphics, the video clips and even the audio files that you use. Make sure that all of the multimedia is relevant to what you are writing in the magazine and ensure that the quality is up to the mark so that people can enjoy reading your interactive ebook.
Summary
Last but not least, with the Publuu service, creating and publishing your ebook will turn into something special. It is an innovative type of digital ebook. Reading it is very similar to an actual book experience, with the sound of a flipped page. Moreover, to create a modern and interactive ebook, you don't need any technical skills!
What is an ebook and who can make it?
An ebook is a virtual book. You can read it as a traditional one, but it exists only in virtual reality. There is no need to print it. You just need a device to display it.
Who makes interactive ebooks? To find the answer, check out Google. See how many ebooks there are and who writes them. Among the ebooks authors, you'll find bloggers who write about technology, cooking, education, politics and marketing. You'll find business and politics experts. You will find philosophers, authors of fairy tales for children and poets. Anyone who has interesting content to offer and wants to share what they do with their readers, can successfully create an ebook. That way, they can increase the reach of their publications, gain new recipients, and can also earn money.
Who will read your ebook? Here the answer is even simpler. Anyone interested in the topic. Anyone interested in the title or the cover. Everyone who receives your ebook and will be intrigued by it. In one word: anyone who browses the web.
How to create an ebook?
Do you have content that you would like to share with your readers or customers? Have you written a great novel, an excellent guide, a modern online catalog, a new book of poems, a travel reportage, or maybe an educational book, thanks to which students will start learning with new verve? Chances are you created it in PDF. And you got stuck. Because PDF is not a very graceful format for making ebooks. PDF files are heavy and not easy to publish. Their appearance depends on the device they are displayed on. In short, if you want your ebook to impress, you cannot share it using PDF. What to replace it with?
PDF to ebook – the best way to create stunning ebooks
This is where an online flipbook comes in handy. In short, a flipbook (known also as PDF flipbook) is an interactive PDF that is available online. With Publuu, our online ebook maker, you can easily convert your PDF to ebook, publish it and send it to your readers. Just register on the Publuu website and in a few moments you will have a beautiful ebook that you can be proud of!
Corrections, bugs, updates?
Proofreading is a pain for anyone who produces a book. Those of you who have published something at least once know what I'm talking about. Bugs found too late, the latest research on the topic your book is about, published an hour after your ebook was distributed. The unfortunate typo that remained in the title of the most important chapter…
This is not a problem with Publuu! You can freely update each page layout of your ebook or correct previously unnoticed errors, without the need to send an additional link to your readers or customers and without having to correct the whole thing. This is another advantage of an online flipbook in relation to a PDF file, and also in relation to a traditional book. With flipbook, you correct what needs to be done, and your audience simply sees the new content under the same link they have used so far!
Do you care about cybersecurity of your texts?
Ebooks made with Publuu have one more option that you may find useful: passwords. If you care about the security of your content and you want to make sure your ebook will be opened by a particular person, you can easily password it so that it can be opened only after entering the password you set.
This way, you can rest assured that your content will not fall into the wrong hands.set.
How do I convert a PDF to Ebook?

The simplest way to do this is to upload a PDF file to our Ebook Creator which will convert your static PDF into an interactive Ebook in just a few seconds - a realistic page-flipping effect will be added automatically.

What is the best program to create an Ebook?

We recommend Publuu Ebook Creator since it provides a lot of useful functions that can make your Ebook stand out from the crowd. Publuu Ebook Creator allows you to enrich your Ebook with interactive elements and multimedia, such as videos, audio files, and GIFs, and check how the readers interact with your publication.

Is it difficult to create an interactive Ebook with Publuu?

No, actually, it is pretty easy. You don't need any coding skills to create an outstanding-looking Ebook and add some interactive elements to it – with our intuitive interface, you will do this with just a few clicks.

What devices can you read Publuu Ebooks on?

Interactive Ebooks created with Publuu can be displayed in high resolution on every mobile device. Every Ebook can be read either on a desktop, tablet, or even smartphone and will never lose its quality no matter what kind of device your customers use to read it.

How can I publish my Ebook with Publuu?

Publuu Ebook Creator allows you to publish your amazing Ebook using various ways. You can share it as a direct link or publish it on your social media profiles; you can embed it on your website using an easy-to-get embed code or use our Online Newsstand to create the whole collection of your publications that can be integrated with your site. All of the ways of publishing your Ebook are described in this guide: How To Share My Flipbooks

How many pages can Ebooks be?

It's up to you! There are no limitations regarding the number of pages your Ebook can have – the only thing you need to take into consideration is your PDF file size. Depending on the price plan you choose, your PDFs can be either 150 MB, 250 MB, 500 MB, or even 1GB. Go to the Prices tab and find out more about the pricing plans Publuu offers.

How many Ebooks can I create with Publuu?

Publuu allows you to have from 10 to 500 Ebooks stored at the same time in the cloud - its number depends on the pricing plan you choose. To check which plan is best for your business, go to the Prices tab.
Create digital ebook today!
Turn your PDF into an interactive ebook with realistic page flip effect.