Online Photo Album Maker
Create your own unique digital photo album that looks just like a real physical copy on any device. Make your photo book quickly and easily stunning by choosing a background template and adding interactive elements.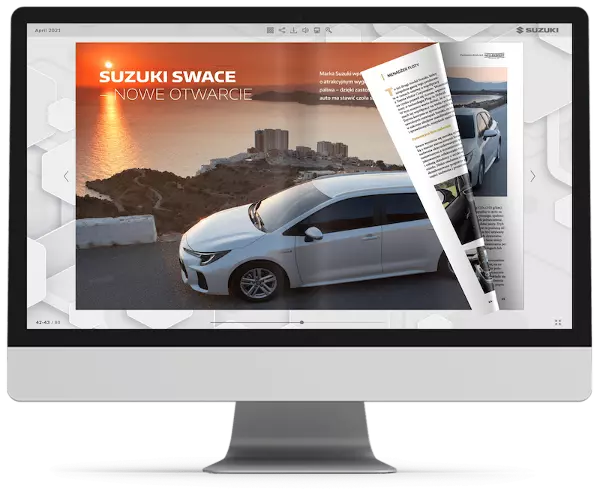 Our latest awards:
Why creating a digital photo album with Publuu?
It's simple. Your photos, graphics, portfolio and other important visual work deserve the best online presence. With Publuu - an online photo album maker you can quickly transform your PDF into a stunning interactive publication that looks excellent on any device.
MAKE YOUR OWN PHOTO BOOK
How to make a digital photo album online?
Working with Publuu is very easy.
Follow our short guide and learn how to prepare and share your first photo book with just a few clicks!
UPLOAD AND CONVERT

Upload your PDF photo album to Publuu online photo book creator. It will be quickly converted into an interactive HTML5 photo album.

PERSONALIZE YOUR BOOK

So many ways to make it yours! Choose one of the background template designs or upload your own. Add animated hotspots with extra photos and videos or embed them straight on your albums's page. You can even add gifs to impress your audience!

SHARE YOUR PHOTOS

When you're done, it's time to share your photo album! You can do this by sending a direct link via e-mail, embedding it on your website or simply posting as beautiful 3D cover on social media.

PROTECT YOUR PHOTOS

Protect your photos with a password, making them accessible to selected users only. You can easily disable share, download and print options. Hide it from search engines or make it private!
Main Features of Photo Album Maker
For mobile users
Digital photo books created with Publuu are mobile optimized. Your photos will look great on any device and will be accessible to you and your friends all the time!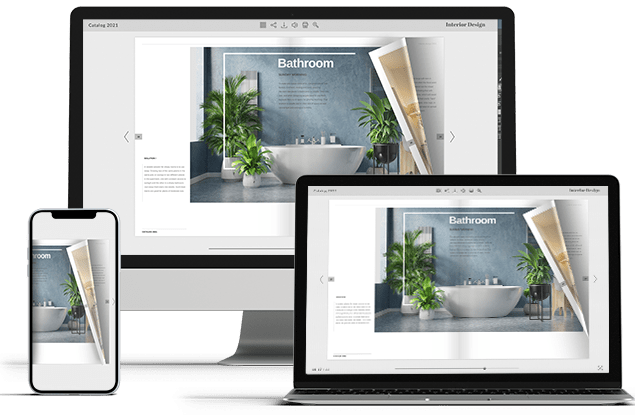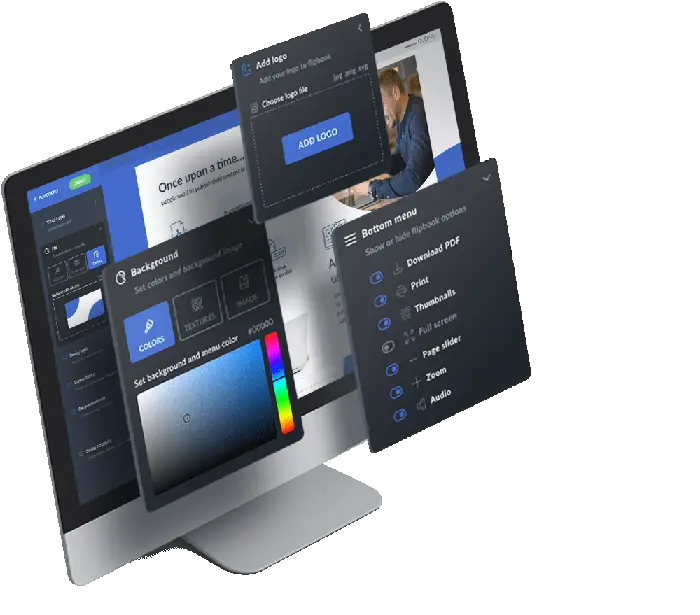 Customize your photo book
Make your digital photo album truly yours design. Choose a background template to fit the occasion. Brand it with your logotype and add animated hotspots with pop-up photos and videos. Add gifs to make it more engaging!
Share your photo album
It's so easy to share your new, photo flipbook! Send it as a link or post it on social media. Embed it into your website with our easy to use embed tool.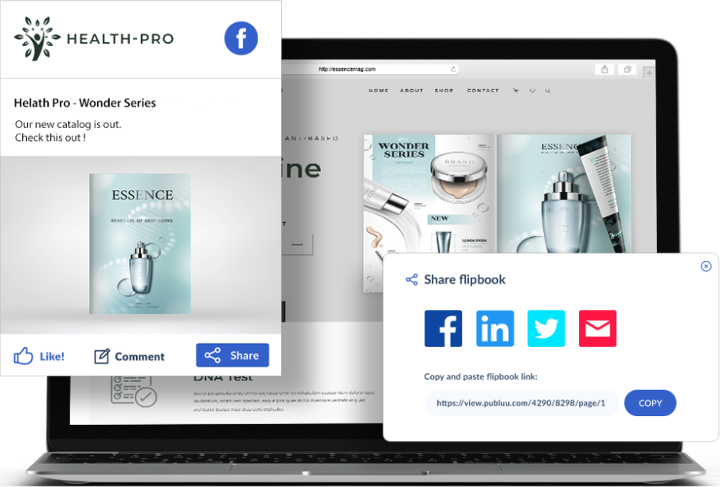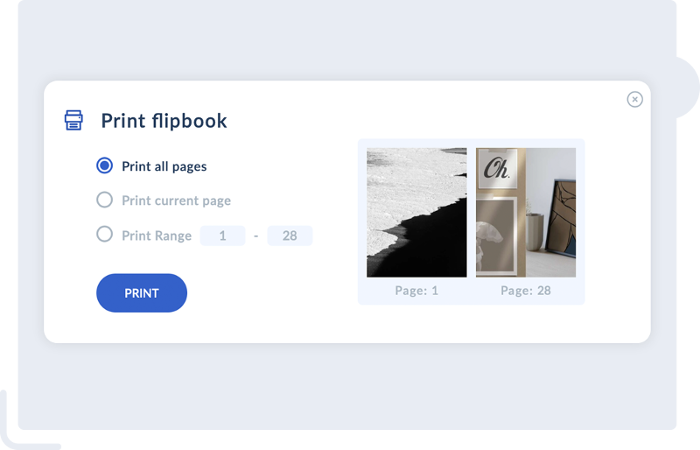 Download and Print
You can enable download option for your viewers, so they can download your photo album anytime. Publuu's photo book online viewer will save it as a high quality PDF file, ready for printing.
Digital photo album examples
Publuu photo album creator is being used by more and more people around the world. Join them and share your memories online in the best possible way.
Interactive Photo Book
Make your photo book even more interactive by adding animated custom hotspots. Enhance it with photos, videos, external links or audio files. Show your story in a more engaging way!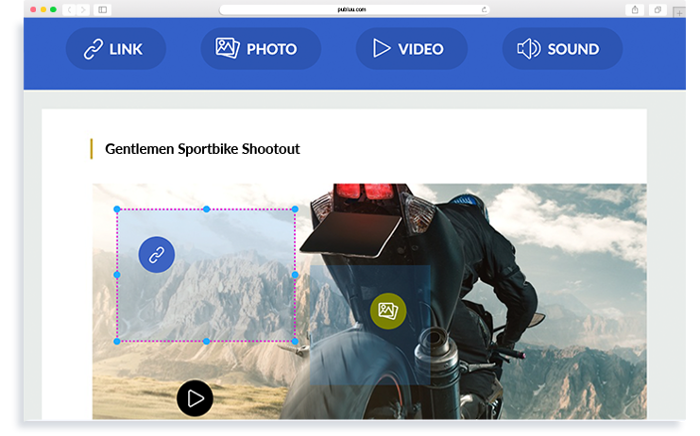 Website and Mobile App
Create your photo album and share it on your own custom designed website and mobile application, available to download from Google Play and App Store. Your digital photos will be saved as stunning photo books and stored in one central location, accessible for everyone, even when offline!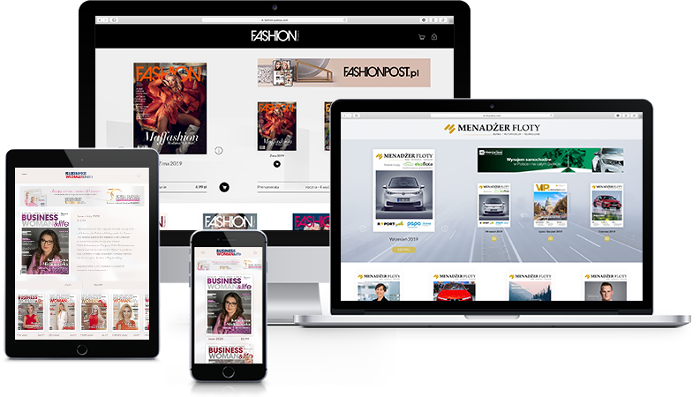 Even more photo albums benefits
Photo book navigation
With a quick thumb search it's easy to find a digital photo you are looking for, especially on mobile devices.
Easy access
Access your Photo books anytime and anywhere with just one click. You don't need to download anything.
High quality
Your photo albums will always be of the highest quality - the photos as well as any text you decide to add.
Custom Photo Books
Great idea for every occasion!
However, photo books do not have to be merely souvenirs of your travels. An online photo album is the ideal gift for birthdays, christenings, Christmas, and virtually any other major occasion. Publuu's custom photo book can be used to commemorate a wedding or a graduation. Aside from being relatively inexpensive, photo books demonstrate that you value beautiful memories and have put your time and effort into creating something personal.
Photo album example:
More examples
Create photo albums with Publuu- they are more intuitive than any online gallery, especially for seniors or other people who are less tech-savvy. Publuu's personalized photo albums allow you to relive those memories as you flip through the pages while sitting on the couch.
Photo book service right here, right now.
Publuu - your own custom photo albums maker.
Recognition as a leader!
We are serving customers from over 150 countries and helping over 10,000 businesses grow every day.
We are so proud to be recognized as a global leader for our photo albums performance, easiest setup and easiest to do business with.
We have a 99% satisfaction rate from our customers and we work hard to keep it that way - we value service quality and always make sure that our interactive photo albums answer your business needs.
And we've been awarded for it!
Share your photo album online !
Free Trial !
You can start playing with your digital flipbook right away – Publuu offers a free trial with all advanced functions available. You can choose a basic plan offering space for several books at a very reasonable price or an advanced ones with more features and great customer support.
What is the best online photo book maker?

We recommend using Publuu Photo Album Maker since it allows you to create a unique digital photo book with an unlimited number of pages, each with a realistic page-flipping effect. With Publuu you can share your photo album online and display it in high resolution on every mobile device. You can also enrich it with plenty of multimedia or interactive elements that will impress your viewers.

How do I create a photo album with music?

If you search for an online photo album creator that allows you to add music to your photo book, Publuu is the best choice for you. It allows you to add not only videos and audio files that viewers can listen to while browsing your album, but also a variety of other interactive elements, including GIFs, animated hotspots, links, and much more.

How do I make a photo book online for free?

In order to make a photo book online for free, create a free account at Publuu and try a free trial during which you have the chance to use all of Publuu's functions, such as tracking links, password protection, statistics, and many others - don't wait, try them all and see how they can boost the reception of your photo book.

How do I make a photo album private?

Protect your photo album and let only trustworthy viewers have access to it - use a Publuu Password Protection function that allows you to set the unique password to your photo album and make it safe. You don't need to worry about your sensitive content anymore – your photo album will be displayed only after typing the correct password.

Can I print my digital photo album?

Yes, Publuu allows you to download your photo album and save it as a ready-to-print PDF file. Don't worry – after downloading your album as a PDF, a digital version of it will remain unchanged and still available online.

How many pages can my photo album have?

While other photo album makers impose the page limits, Publuu allows you to create a photo album with an unlimited number of pages, each with a page-flipping sound and other effects, such as reflections or shadows, that make it similar to a real publication.

How can I embed a photo gallery in my photo album?

Thanks to our Photo Album Maker you can embed not only a couple of photos per page but also the whole interactive photo galleries that can be displayed and browsed right away in your album. With our simple interface, you can do this with a few clicks. The detailed instruction on how to do this can be found here: How to add hotspots .
With Publuu you can also create
Start creating photo albums for free today.
Your digital photo will never look the same.