MENU
Creating your first flipbook
STEP 1
PREPARE YOUR PDF
To create your first flipbook, get your PDF ready. For tips on how to do it correctly, please see our guide How to prepare PDFs to create the best quality flipbooks?
STEP 2
UPLOAD YOUR PDF
To upload your PDF, log into your Publuu account or register, giving your email address and setting a strong password.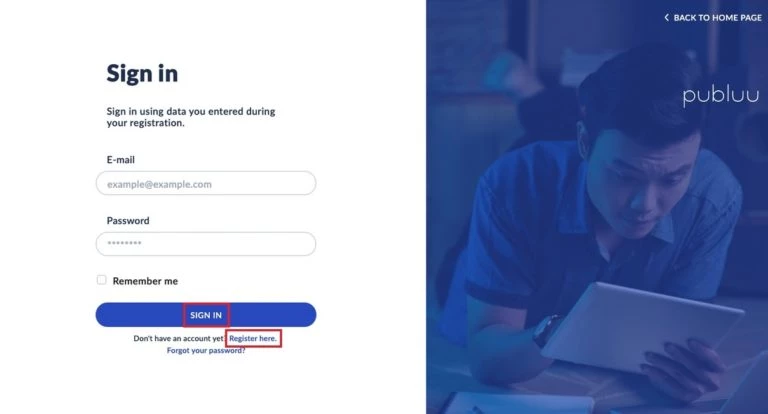 You will now see a screen where you can upload your PDF or use a sample provided by Publuu. To upload your own PDF, click UPLOAD YOUR PDF, select the PDF file you want to use and wait for your flipbook to be converted.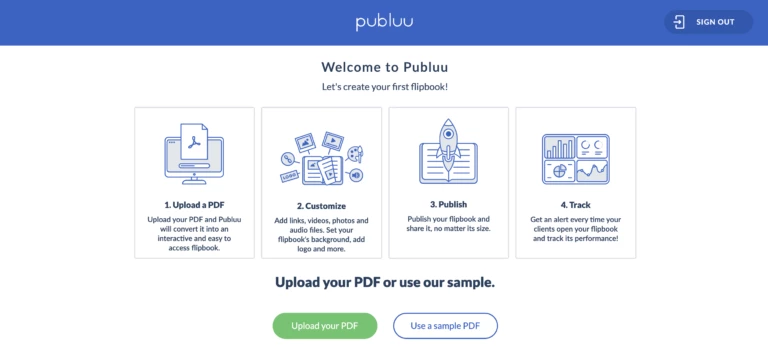 It will just take a moment.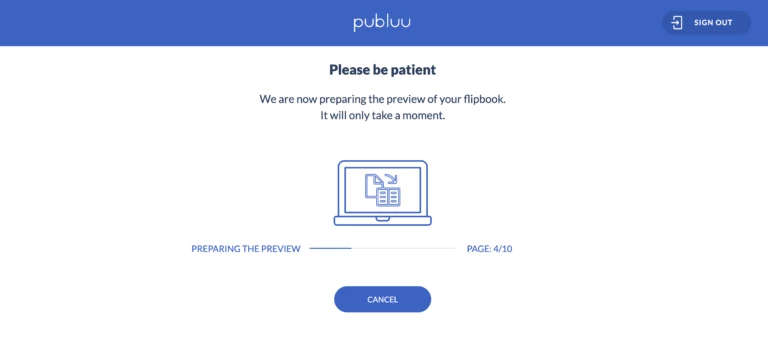 STEP 3
CUSTOMIZE YOUR FLIPBOOK
Once your PDF is converted into an HTML5 flipbook, you will be taken to the editor where you can start customizing it. As you can see, there are multiple options available in the left-hand panel.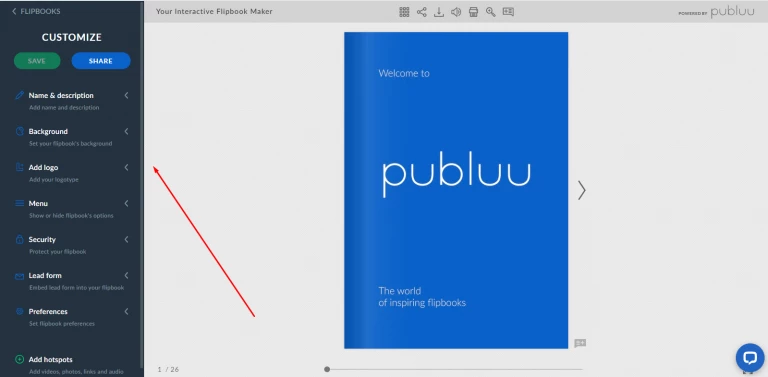 You can not only change your flipbook's name and add the description, but also change its background, brand it with your logotype, protect it with a password, and much more. To get more information about these options, visit the guides below:
Setting Your Flipbook's Background
How To Add Real Book Effects?
How to Brand Your Online Publications?
How Can I Protect My Flipbook With a Password?

To view information about your flipbook and to manage it, click on FLIPBOOKS in the upper left corner.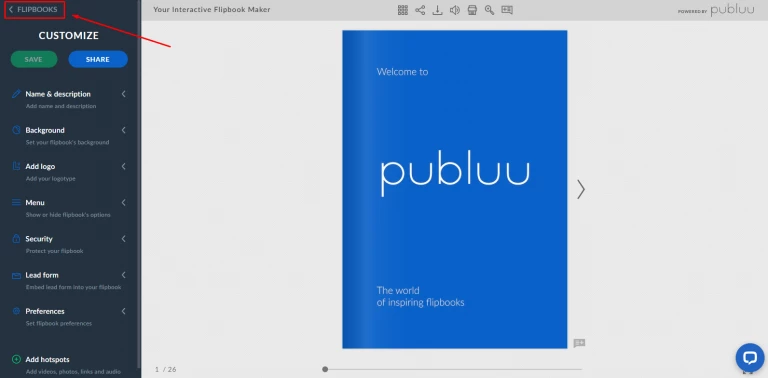 Here you can see its cover, name, and number of pages it contains.

STEP 4
SEARCH YOUR FLIPBOOK
If you have numerous flipbooks and want to find a particular one, go to main menu and write the flipbook's name in the SEARCH YOUR FLIPBOOK field.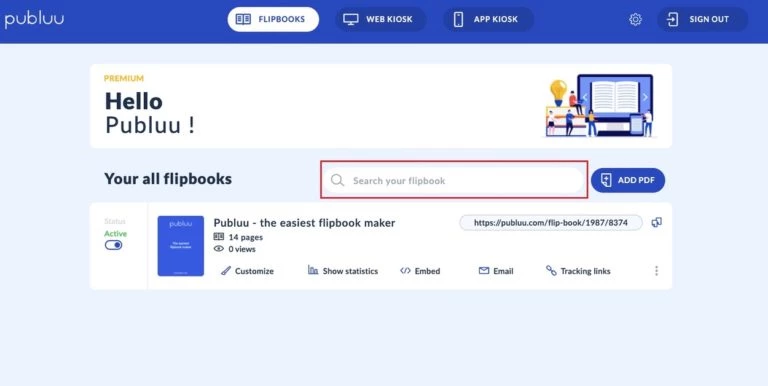 STEP 5
CHANGE YOUR FLIPBOOK'S NAME
To change the name of your flipbook, click on its current name in the main menu.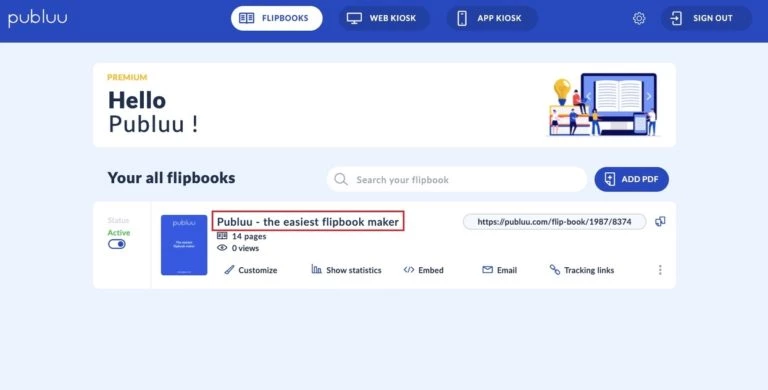 Now insert the new name in the name's field and click SAVE.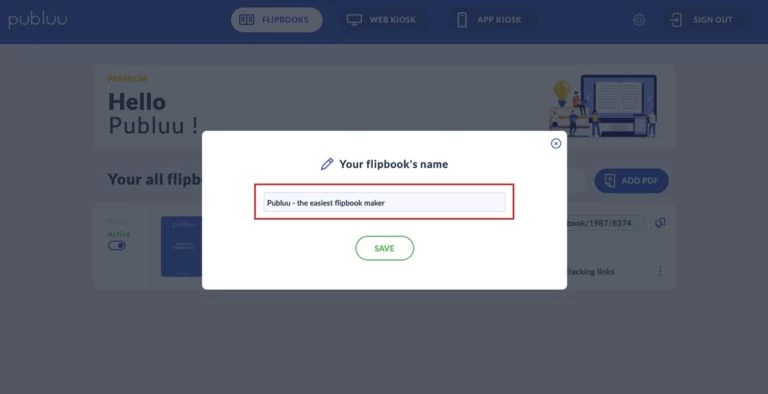 STEP 6
CUSTOMIZE YOUR FLIPBOOK
To customize your flipbook, click on CUSTOMIZE button you will find right under your flipbook's number of views. As soon as you click the button, you will move to the customization editor mentioned above.

STEP 7
PUBLISH & SHARE
Now it's time to share your flipbook with the world!
Publuu offers multiple sharing options – you can share your publication with a direct link, via email, embed it on your website or post it on social media.
If you wish to share your flipbook with a direct link, go to your flipbook's dashboard and click the link on the right. It will be automatically saved to your clipboard.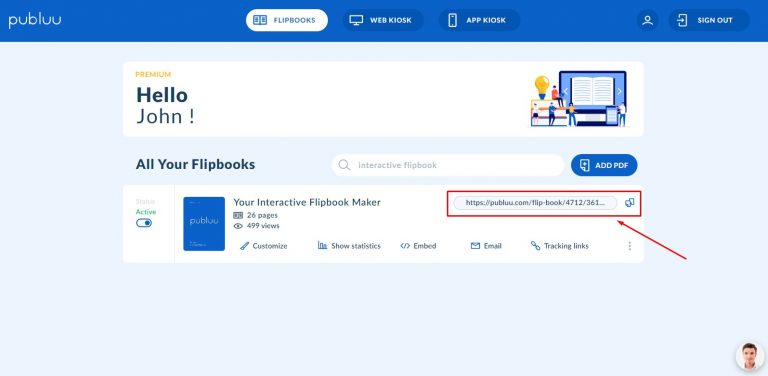 Great! Now you can share the link with your clients or post it on social media to reach a larger audience! More about sharing via direct link can be found here: Sharing a flipbook with a link.
Your flipbook can be also emailed directly from the control panel by clicking the EMAIL button.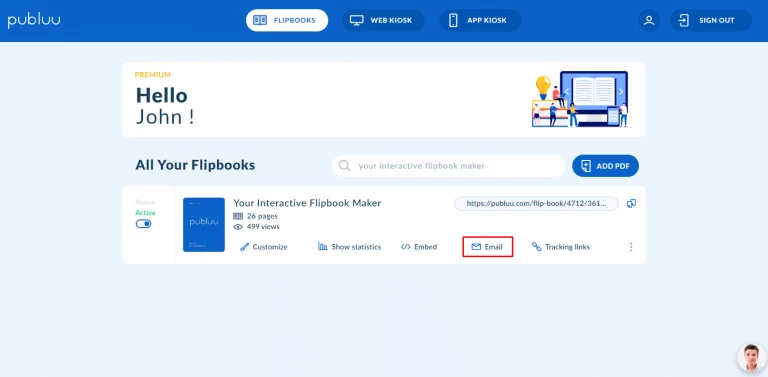 For more information on how to share your flipbook via email go to this article: How to Share a Flipbook via Email?
You can also publish your flipbook on your website, online store or blog using the EMBED button: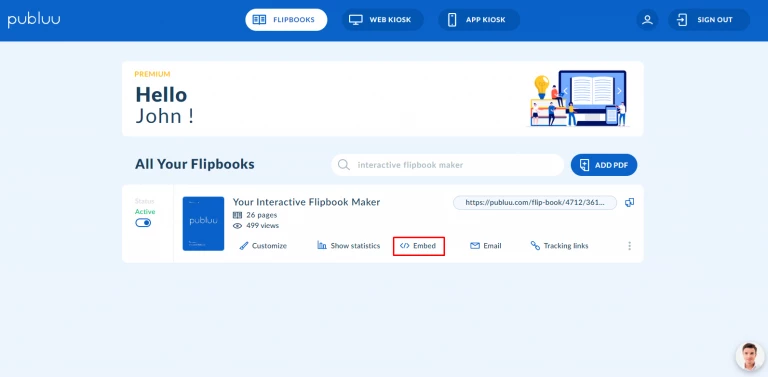 The detailed guide on how to do it properly can be found here: How Do I Embed a Flipbook Into My Website?
As you see, sharing your flipbooks with Publuu is fast and easy!
To learn more about all the sharing options, go to SHARING.
STEP 8
CHECK STATISTICS
Now, as soon as your flipbook is published, you can check its performance – just click the SHOW STATISTICS and learn how to analyze it with this article: How to Analyze Your Flipbook's Statistics?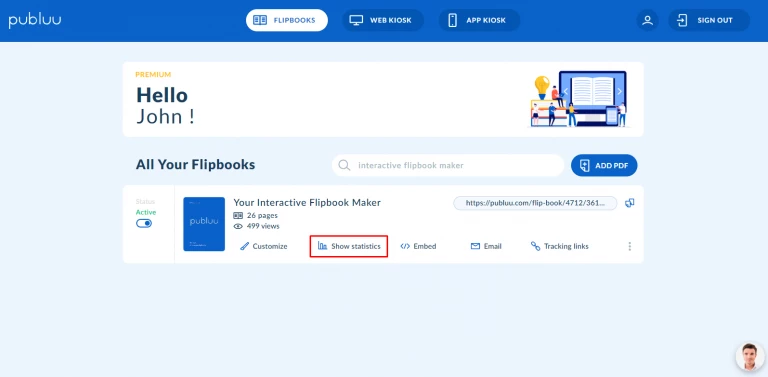 You can also generate a tracking link and check your flipbook in real time. If you wish to learn how to do it, please visit this article: How to Create Tracking Links?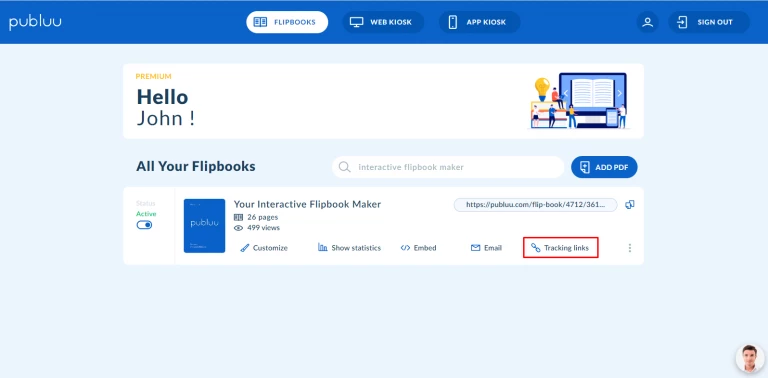 Congratulations, you have just created your first flipbook and learn basic Publuu functions. But this is only the beginning! Publuu can offer much more than that! To explore other functions designed to make your flipbook as effective as possible, go to our HELP GUIDE and learn more!