Page Flip Effect
Create a stunning page flip effect from PDF documents. Bring your content to life and turn your static document into an interactive, online PDF that looks and sounds like a real, physical book. Enhance it with multiple realistic effects such as page flip, page turning sound, and natural shadows on each page to give your readers a richer reading experience.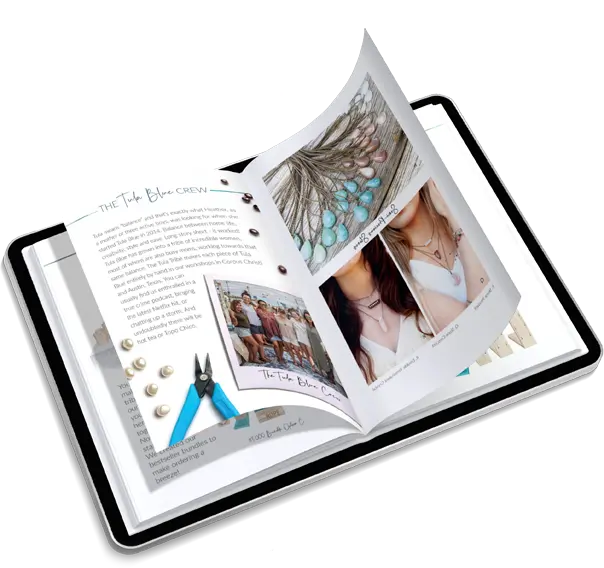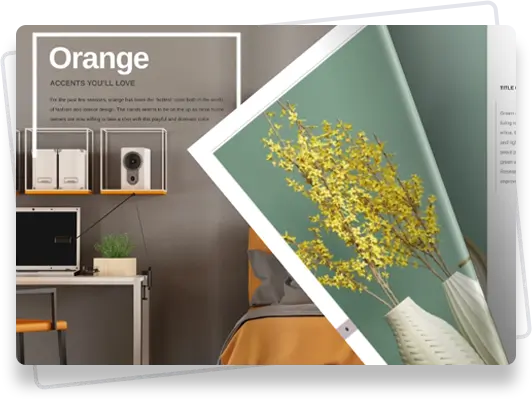 Flip Effect
Let your readers feel like they're turning the pages of a real, paper book. Thanks to the page flip effect they can flip smoothly through the pages of your online PDF on any device and explore it at their own pace. Allow your readers to choose the preferable way of turning the pages, using the arrows, or just dragging the pages. Make reading your content a great and engaging experience!
Page Thickness
Allow your viewers to feel like they are reading a physical book with multiple pages. Apply the page thickness effect to your online PDF to visually present the number of pages it contains. Thanks to this effect your clients will see their reading progress and be curious to discover the content on the remaining pages!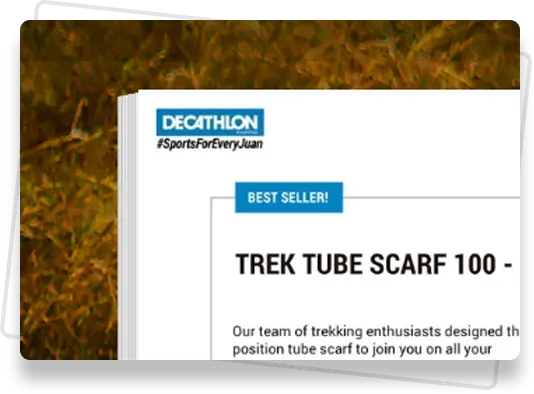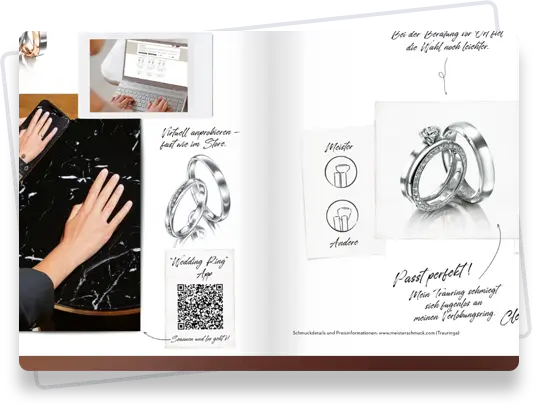 Shadow On Each Page
Bring the physicality of paper pages to the digital world and enjoy the appearance of a traditional book or magazine. Add subtle shadows on the facing pages of your online PDF to provide a sense of depth and make your online publication look more authentic. Your readers will definitely appreciate this impressive paper-like experience and be more willing to interact with your content.
Page Flip Sound
Capture your readers' attention with the page turning sound and make reading your online PDF as enjoyable as possible. The sound effect of flipping pages applied to your online PDF will recall the most pleasing experience of reading a paper book. Use this sound to engage your readers, guide them to the lead generation form, and encourage them to share their contact details.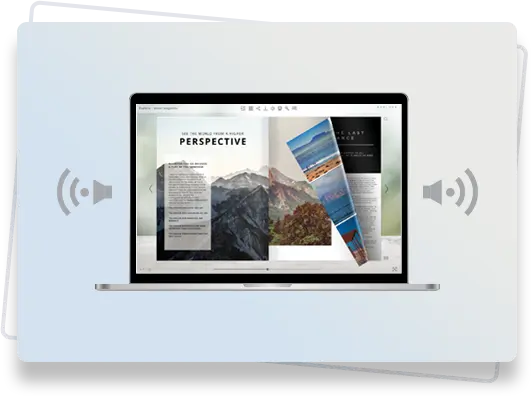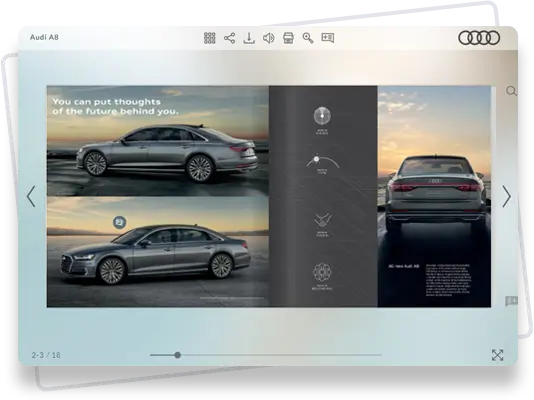 Brand Elements
Create a realistic online PDF with flipping pages that is truly yours. Upload your logo that will greet your readers right after opening your online PDF. Choose from the selection of background templates to suit your business style and taste. Match the colors and other brand elements and let your online PDF perfectly represent your company's values.
How to create a page flip PDF?
With our easy-to-use interface, you can create your own online PDF with flipping pages, shadows, thickness, and page turning sound in no time!
Just drop your PDF file in the drag-and-drop area below and our simple editor will convert it into an online PDF for you. It's really that easy!

Now, the best part: all the realistic effects, such as page flip effect, page turn sound, page thickness, and shadows will be added automatically after converting your document into an online flipbook! Isn't it great? Of course, you can turn them on and off anytime you want, but they will be always available within one click!

Your online PDF with realistic page flip effect is ready, but don't stop here! Enrich it with hotspots, embedded galleries, videos, GIFs, and many more interactive elements to impress your customers even more! Upload your logo and set the custom background to make it reflect your brand's style!

As soon as you are satisfied with your creation, share your flip page PDF with the wider audience! You can post it on social media, embed it on your website, or send it via email – all with one, direct link! Then you can track how it performs in real-time and evaluate your marketing efforts!
Start Creating Your Digital Publications
Recognition as a leader!
Discover more features that make your page flip PDF a perfect marketing tool:
It's never been easier to add a bit of realism to your online PDFs! Our easy-to-use, intuitive interface allows you to create digital PDFs with page flip effect, page thickness and shadows within seconds and to do much more: add hotspots, and multimedia, upload the logo and set the background without having any design or coding skills. And it's just a small part of the multiple things you can do with Publuu editor!

Every online PDF created with Publuu is optimized for any device - meaning it adjusts automatically to any screen, so your customers can display and enjoy the outstanding real-book look on their tablets, smartphones, and desktops without installing any extra software. Mobile readers will thank you for the opportunity to read your online PDF everywhere in high quality with fullscreen mode!

Want to make your online PDF even more interesting? Don't limit yourself only to realistic page-turn effects and sounds! Add photo galleries that display images in a slideshow, videos, or interactive hotspots with links to your online store or blog. Browse our free GIF library and diversify your content with an animated GIF that will make reading your online PDF more entertaining.

We all know how hard it is to scroll multiple pages of a regular PDF file to find the information we need. At Publuu, we have a solution to it. We have introduced multiple tools, such as page slider, thumbnails, and much more to make browsing your online PDF not only engaging thanks to page turning effects and sound but also hassle-free even for inexperienced users!

Save your time and don't make a table of contents from scratch – Publuu allows you to import the bookmarks from your already created PDF file and transforms them into an interactive table of contents that your clients can browse to easily find the most interesting part of your online PDF and move there with just one click!

Deliver high-quality content to your readers and let them experience the realistic page-turn effects in full no matter what device they use to view your PDF online. Thanks to our high-resolution vector fonts, you can be sure that your content will always be readable and crisp even when zoomed!

Add links to your website or online store in form of eye-catching hotspots on any page of your online PDF to ensure that every reader is taken directly to where you want them to go and learn more about your products or services. Customize the hotspot's look to suit your offer, place it next to the product, and encourage your recipients to click it and go straight to the checkout.
Why online PDF with a page flip effect is better than a static PDF?
Check the functions below to find out!
Share in multiple ways
Show everybody your online PDF that looks and sounds like a real publication and save printing costs at the same time! Share it using a single direct link, send it via email with no heavy attachments or publish it on social media platforms to reach the widest audience possible! You can also embed it on your website, blog or online shop to enhance your content!
Track your online PDF
Times, when you didn't know if your business offer was opened and when to send a follow-up, are already over. Now, you'll be notified right away your online PDF gets opened. And that's not all! You can track any direct link sent to your client to check how many times he opened your online PDF, and how long he looked at each page. These and much more statistics will be always at hand to check anytime you need them!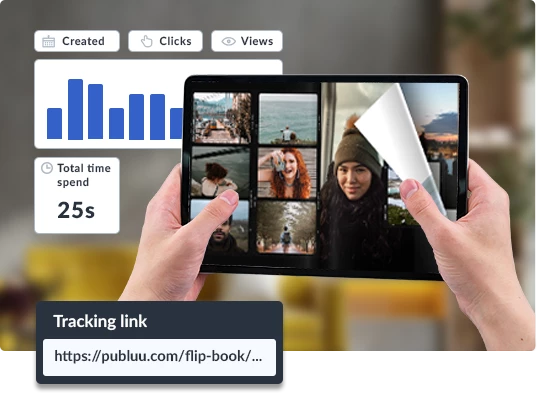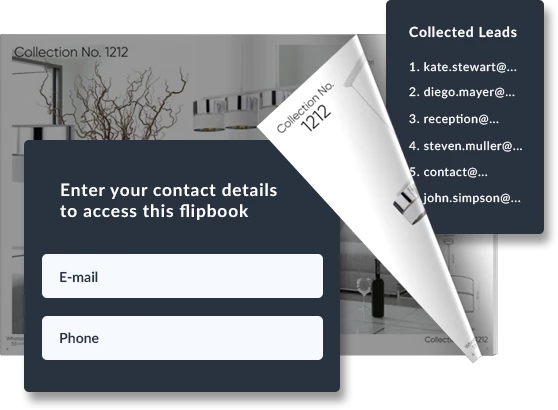 Add a lead generation form
Prepare engaging digital content with professional, realistic page-turn effects to encourage your readers to share their contact details such as email address or phone number in exchange for accessing the rest of your online PDF! Add a simple lead form to any flipping page of your online PDF and start collecting your potential clients' contact information right away! Decide what kind of data you want to collect and customize the lead form. Use the collected data to boost your conversions!
Tony Hodges

Jumbly

Jayson Reynolds

Mantic Media

Matilda Arnold

FierceContent
Tony Hodges
Jumbly
"I was so sick of reading PDFs that did not adjust to my tablet or phone, but Publuu changed all of that. I'm now getting the same kind of enjoyment out of reading on my device that I used to get out of a real book!"
Jayson Reynolds
Mantic Media
"Publuu creates an immersive book-reading experience. The flipping pages and the sound effects are, for lack of a better word, perfect. This is one of the best apps I have used!"
Matilda Arnold
FierceContent
"I tried other apps in the past to create an online publication that resembles a physical book but they were too complicated. Publuu is easy to use, offers a seamless interface and produces the best quality book effects. And is very affordable!"
Trusted by numerous businesses worldwide
Join to our happy clients!